Delicious Jamaican Soursop Juice Recipe (Two Ways) – with Lime or Milk!
Delicious and Healthy Soursop Juice 
Soursop Juice is a tropical drink that is both super nutritious and super delicious. Most people I know who have tried this exotic juice have fallen in love with it.
Growing up in Jamaica, it was always a treat to have soursop juice with dinner on a Sunday. I remember my mother making soursop juice two ways – with lime or with milk. At times she only added lime and brown sugar to her Soursop Juice to make a cool and refreshing beverage. At other times, she made Soursop Juice by adding spices and sweetened condensed milk to make a rich and creamy drink. No matter how she made her Soursop Juice, however, they were both equally special and delicious.
Now that I have my own family, I use my mother's two recipes to treat my husband and son to tasty and healthy soursop juice and we all go crazy over it! What you'll enjoy about these recipes is getting all the secret ingredients to preparing authentic Jamaican-style Soursop Juice. You'll also get my step-by-step recipe video below, which shows you exactly how to peel, blend, juice, and sweeten Soursop Juice!
Benefits of Soursop
The soursop fruit (also known as Guanabana or Graviola), is a well-known Caribbean favourite. It is versatile and can be eaten as is, or blended into a thick yet refreshing juice drink.
Soursop has many health benefits. The fruit is rich in fibre and Vitamin C, which aids in digestion, boosts the immune system and promotes overall good health. Most interestingly, soursop has also been credited with having powerful anti-cancer properties.
Similar to the fruit, the soursop leaves provides several health benefits. As a result, soursop leaf tea is often used as a Jamaican home remedy to calm the nerves and help with a good night's sleep.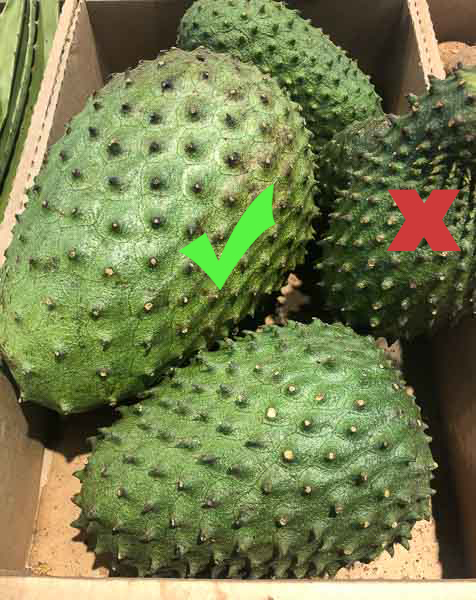 How to Choose the Best Soursop for Juicing
The best soursop for juicing is one that is perfectly ripe. If you've ever tried to make Soursop Juice but the Soursop you had was less than ideal, don't worry I'm here to help. I'll share how to choose the best soursop to make soursop juice.
Whether you get your soursop from the tree or from a store, follow my guide below to get the most out of your fruit. Here are my tips on choosing the best soursop for juicing:
Examine the skin of the soursop. If it is very green, hard and shiny, it may be under-ripe and won't ripen properly no matter how long you keep it. Also, examine your soursop for bruising, tears or holes. Soursops exposed to bacteria through its damaged skin will spoil quickly.
Look at the 'spikes'. Soursop spikes that very long and tightly spaced, means the fruit is too 'young'. Choose soursop that has its spikes spaced far apart (see photo above), and is slightly tender to the touch.
Follow your gut. Maybe you can't quite explain it but does the soursop look odd or 'funny'? Does it have a sharp 'sour' smell? Are there small flies around the soursop? Does it have several soft spots? That may mean the soursop is over-ripe and rotting and you should pass on getting it.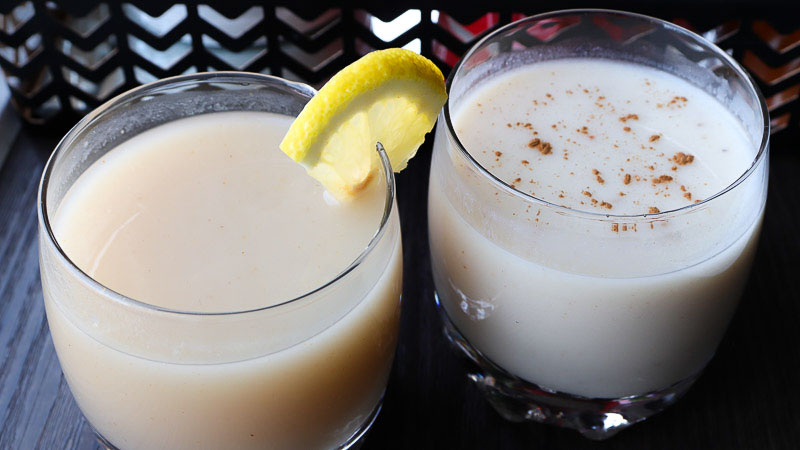 How to Ripen Soursop
If your soursop is not ripe, speed up the ripening process by wrapping it in a paper bag or newspaper. Once wrapped, store it on the countertop and check it daily. When your soursop is tender all over, it is ripe. Another sign of a perfectly ripened soursop is in the colour of the skin. The soursop skin should change from bright green to a dull green or greenish-brown colour. That's when your soursop is ready for juicing!
Making Soursop Juice
Once your soursop is ripe, peel it, then remove the core and ALL the seeds before juicing it. But remember, soursops are deliciously addictive and you can find yourself eating the fruit and have none left for juicing. I for one have been guilty of eating too much of my soursop before juicing it *covers face*. The next step is to blend and juice the soursop before sweetening it. If you have a juicer handy, that's awesome! Using a juicer makes juicing the Soursop much easier than using a blender.
Whether you're counting calories, have health concerns or simply don't fancy milk-based drinks, I highly recommend trying my Soursop Juice Recipe that's naturally flavoured with Lime. It's not only simple and refreshing but quite healthy. Try adding just a spritz of lime after juicing the Soursop and avoiding additional sweeteners to enjoy the 'Ital' Jamaican version of the Soursop Juice drink.
*sweet tip* You'll be glad to know that my soursop recipes are adjustable, so feel free to substitute brown sugar with honey or any other organic sweetener of choice.
Let's Go Juicing!
In this recipe, I used a blender instead of a juicer. Get the Oster Blender I use, to juice your delicious soursop juice if you don't have a Juicer at hand. Just make sure to have a large strainer to extract the juice and remove the seeds and the thick pulp. I've used my Oster Blender to juice my fruits and vegetables for many years, and I love it!
I'm sure you'll love having Soursop Juice these two ways – with either lime or milk. Cheers to a cool refreshing soursop drink you'll sip and savour all through the day!
Enjoy your Soursop Juice with Jamaican dishes like curry goat, oxtail and beans, steam fish with okra, or Roast Chicken. If you've tried my recipes and love them, please remember to come back to leave a 5-star rating and a review. Thank you.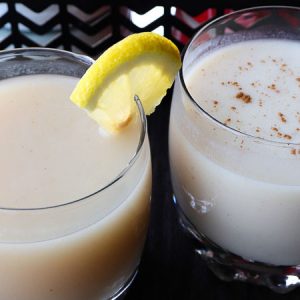 Soursop Juice Recipe, Two Ways - With Lime or Milk
Soursop Juice is a tropical drink that is both super nutritious and super delicious. Enjoy this deliciously authentic Jamaican Soursop Juice Recipe (2 Different Ways) - with Lime or with Milk. Soursop Juice with Lime is a light, tangy and refreshing beverage, while Soursop with Milk, is a smooth, creamy and flavourful drink. No matter which way you choose to make it, both will be delicious and delightful!
Ingredients
1

large

ripe soursop

remove all seeds

4 - 6

cups

water
For Soursop with Lime
1/4

cup

lemon/lime juice

2 - 4

tbsp

brown sugar/honey

(optional) sweeten to taste
For Soursop with Milk
4 - 6

tbsp

condensed milk

sweeten to taste

1

tsp

nutmeg

grated

1

cup

milk

optional

1

tbsp

vanilla

1 - 2

tbsp

cane sugar

sweeten to taste

½

small

lime or lemon

(optional)

1

tsp

Jamaican white rum

(optional)
Instructions
Peel the soursop and remove the core.

Place the soursop pulp (the white fleshy part) into a large bowl.

(*Important*) Remember to remove ALL the soursop seeds before blending!

Add the soursop pulp to your blender (no more than ¾ full).

Add water to the blender to completely cover the pulp.

Use a large spoon to stir and loosen the mixture.

Blend on high until the pulp liquefies. If the blender is struggling, add some more water, stir and resume blending.

Pour the soursop juice into a large strainer seated over a bowl to strain the juice.

Use a large spoon to stir and press the juice through the strainer until all the juice has been extracted.

If any unblended soursop pulp remains, repeat the process of blending and straining the juice.

Choose whether you would like soursop juice with lime or milk, then use the relevant ingredients in the recipe above to flavour your juice.

Pour your finished soursop juice into a large jug, then cover and refrigerate it. This drink should be consumed within 3 days.

Bless up & enjoy it chilled!

My Peeps, once you've tried this recipe please come back and leave a rating & review! I'd love to hear from you 🙂
Notes
My Peeps - In this recipe, I used a blender instead of a juicer. The blender I use when juicing is the Oster Blender. Just make sure you have a large strainer to extract the juice and remove the seeds and the thick pulp. I've used my Oster Blender (as seen in all my youtube videos) when juicing for many years, and I love it!
Happy Juicing!
Roxy.
*Please note that this page may contain Amazon affiliate links (highlighted links to products on Amazon). I get a small commission each time you purchase through my Amazon links, at no extra cost to you. Thanks in advance for making all your Amazon purchases through my product links..
SUBSCRIBE & be the first to get delicious new recipes & exclusive offers!!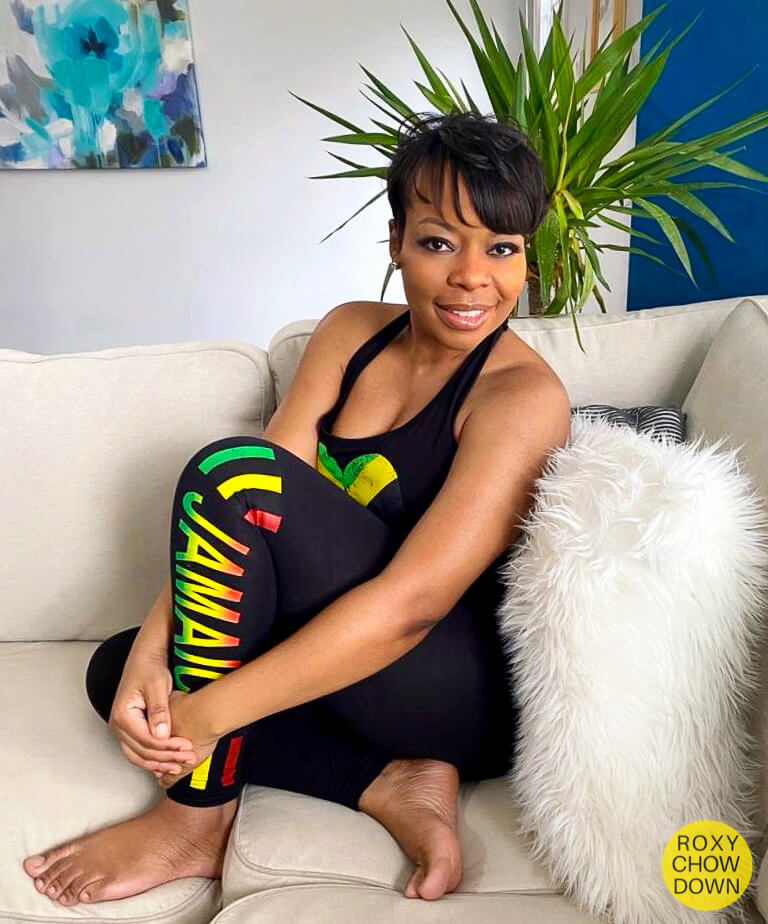 Check out these yummy recipes!