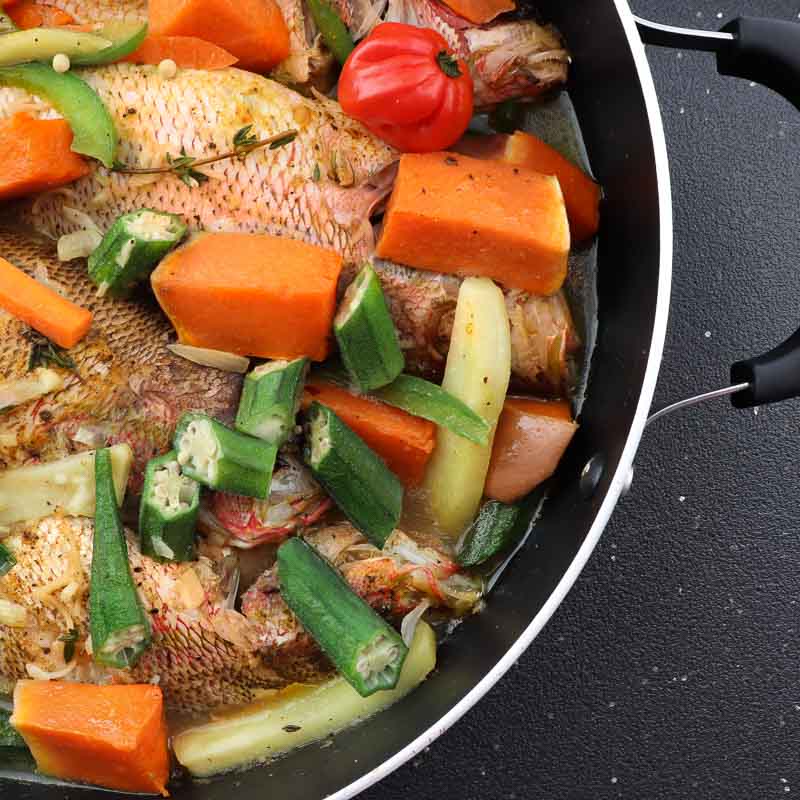 Jamaican Steam Fish with Okra Recipe
Beware! This Jamaican Steam Fish with Okra recipe is so hot, steamy, flavourful, and tantalizing, you may need a special license to cook it! Okay, I'm overreacting just a likkle bit. But seriously – if you're a seafood lover or plan to cook it for someone who is, take heed, because this seafood recipe is spicy in more ways than one. 
Good Mood Seafood
Many people who've  had a nice plate of Jamaican steam fish with okra will say it's the ultimate 'good mood seafood' dish. But that's only when it's done right. If you've ever wanted to learn how to cook deliciously authentic Jamaican Steam Fish with Okra (the way the best seafood restaurants cook it), then this recipe is for you! 
Today, I'll share my mouth-watering Jamaican Steam Fish and Okra recipe that my husband says 'hits the spot' every time. This succulent seafood specialty is what you'll need to add lots of delicious 'spice' to your life. 
What is the Best Way to Steam Jamaican Fish?
The best way to steam Jamaican fish is to use the right ingredients and the right cooking technique. When you use the right ingredients it ensures that you get the authentic and captivating flavour that Jamaican Steam Fish is known for. When you use the right cooking technique, it ensures that your fish stays intact and is properly cooked through to the bone. One important tip to make sure your Jamaican fish is perfectly-steamed, is to add just the right amount of liquid to the pot at intervals.
If you feel a bit nervous about this cooking technique, don't be. I've added a recipe video below that shows you, step-by-step, the best way to get perfectly-steamed Jamaican Snapper Fish. So get excited to cook, and be hooked!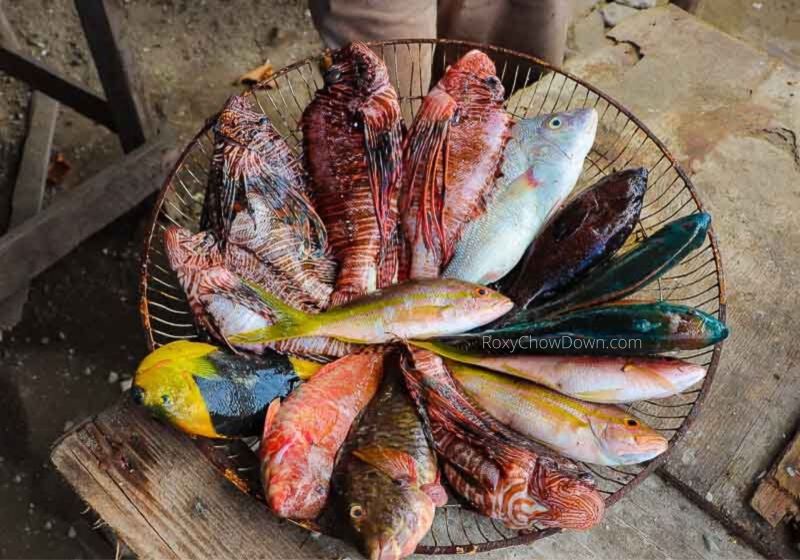 What Fish is Best for Steaming?
Jamaicans prefer to prepare steamed fish using whole red or yellowtail snapper fish. However, you can use almost any type of white fish for this recipe. Some popular alternatives to snappers are doctor fish, grunt, grouper, lion fish and sliced kingfish.
What Can I Serve with Jamaican Steam Fish?
Some delicious side dishes that goes perfectly-well with steamed fish are – rice and peas, boiled ground provisions, steamed or fried bammies and festivals. 
Follow my recipe below, Bless up and enjoy it!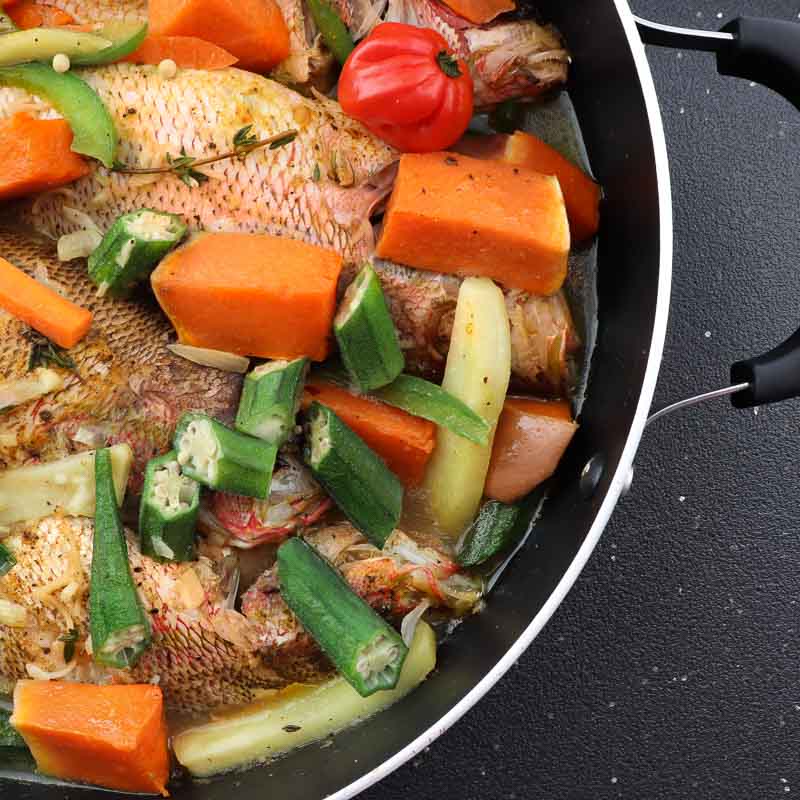 Jamaican Steam Fish with Okra Recipe - Roxy Chow Down
You'll be hooked on this authentic Jamaican Steam Fish and Okra recipe that's richly flavourful & filling! Learn how to cook this Jamaican seafood favourite that's loaded with the delicious natural flavours of coconut milk, pumpkin and scotch bonnet peppers. Get all my secret tips to make perfectly-steamed snapper fish every time. BONUS recipe VIDEO included for you!
Ingredients
3 - 4

medium

whole red or yellowtail snapper fish

or sliced kingfish

3-4

tsp

salt

to taste (1 tsp per whole fish)

1½

tsp

black pepper

2

tsp

cooking oil

1

tsp

curry powder

2-3

tbsp

butter

½

small

irish potato

julienned (optional)

pumpkin

diced (optional)

½

small

carrot

julienned

½

medium

scotch bonnet pepper

or to taste (de-seeded)

5

garlic cloves

crushed & finely chopped

½

small

onion

chopped

1 - 2

stalk

scallion

crushed

½

green bell pepper

2

sprigs

thyme

6 - 8

pimento seeds

½ - 1

cup

coconut milk

1-2

cup

water

room-temp

8 -12

okras

chopped

6 - 8

Jamaican 'tough' water crackers

optional
Roxy's 'NO MSG' Steam Fish FLAVOUR Mix
1/2

tsp

salt

1/4

tsp

allspice powder

1

tsp

garlic powder

pure powder, no salt added

1

tsp

onion powder

pure powder, no salt added

1/2

tsp

oregano

dried

1/2

tsp

corriander leaves

1/2

tsp

basil

dried
Instructions
Prepare the fish by scaling, gutting and washing thoroughly in lime or vinegar water. (Go check out my YouTube Video to learn how to scale and clean fish at home!)

Drain all the liquid from the fish and pat them dry with thick paper towel.

Season the fish with salt and black pepper.

Wash and prep the fresh seasoning and vegetables then set aside.

Wash and prep the okra then set aside in a separate bowl.

In a large, wide skillet, heat the cooking oil on medium-heat for 1 minute.

Add the curry powder and stir with a large wooden spoon for 1 minute.

Add the diced pumpkin, chopped onions, garlic, thyme, pimento, scotch bonnet, bell peppers, carrots and irish potato, then cover the pot and let them cook on medium-high heat for 2 minutes.

Do not add the okras at this point. The okras are added later on in the recipe.

Use a large spoon to spread the sautéed vegetables and seasonings evenly in the pot to form a 'bed' for the fish. Add the butter to the center of the pot and let it melt.

Use tongs to lay the fish side by side on the bed of seasoning and vegetables, then add ½ cup coconut milk. Cover the pot to let the fish steam on medium heat for 2-3 minutes.

In a small bowl, combine the dried and powdered ingredients listed above for the 'Steam Fish Seasoning Mix'. (This 'made from scratch' Steam Fish seasoning gives you a healthy and flavourful MSG-free dish.) If you have a packaged 'fish tea soup mix' that does not contain MSG, you may use it instead of this mix.

Sprinkle the 'steam fish mix' evenly over all the fish.

Add a ¼ - ½ cup of water to the pot, cover it and let the fish steam for 5 minutes.

Stay close to the pot during the cooking process and keep the heat between medium and medium-low.

After 5 minutes, spoon the hot liquid in the pot over the top of the fish, to help cook the fish evenly. (Go check out my YouTube video for a demonstration of this technique.)

Cover the pot and let the fish steam for 10 minutes more.

Check the pot every 3-5 minutes to ensure the liquid hasn't dried out.

When the liquid runs low, add another ¼ cup of water and lower the heat.

After about 10 minutes, add the okra and crackers to the pot and spoon some of the liquid in the pot over them. Cover the pot and steam for 5 minutes.

Total cooking time is approximately 30 minutes depending on the size of the fish. If you use sliced Kingfish, the fish will cook sooner.

Stick a fork in the center of the fish to test if it is completely cooked. The fish is fully cooked when the flesh is 'white' all the way down to the bone.

Serve your delicious Jamaican Steam Fish with your choice of rice, ground provisions, bammy or festivals.

Loved this recipe? That's awesome! Please show me some love & support by leaving a 5-STAR rating and Review. Thanks in advance - Roxy xoxo
*Please note that this page may contain Amazon affiliate links (highlighted links to products on Amazon). I get a small commission each time you purchase through my Amazon links, at no extra cost to you. Thanks in advance for making all your Amazon purchases through my product links..
SUBSCRIBE & be the first to get delicious new recipes & exclusive offers!!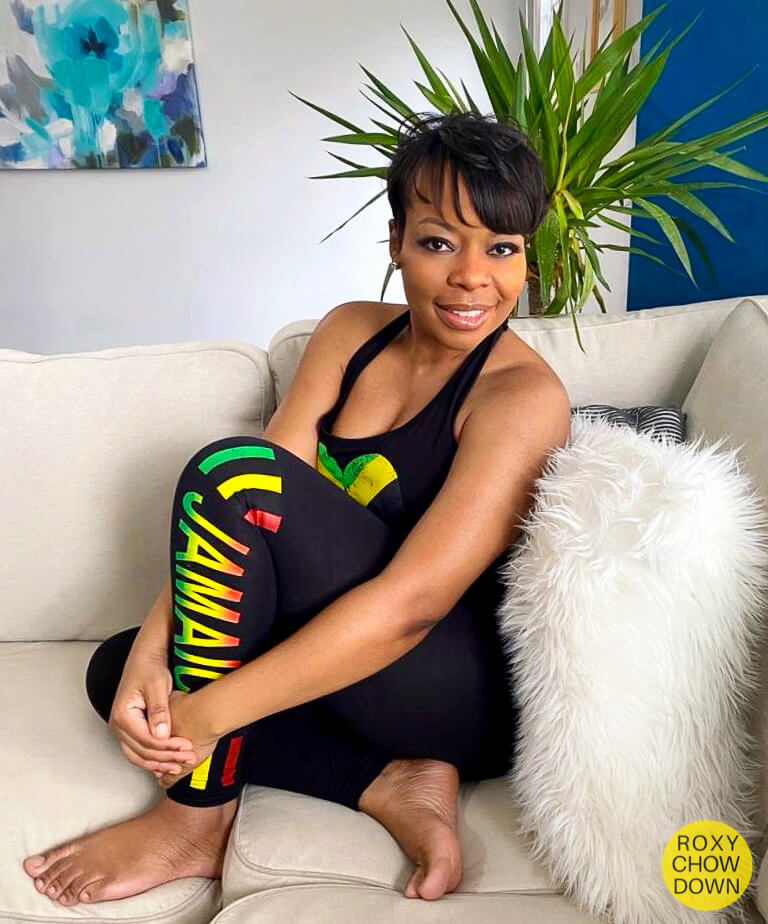 Check out these yummy recipes!