Deliciously Sweet and Tangy Orange Chicken 
Who knew you could easily make delicious, sweet & tangy, 'better-than-takeout' orange chicken at home? Well my peeps, when you try my twist on this popular Asian orange chicken recipe, it will quickly become one of your family's favourite feasts.
So go grab some oranges and pull out those takeout packs of soya sauce, ketchup and pizza flakes (yes, we'll be using those!) that's lying around your kitchen. Now get ready to be amazed by this mouth-watering sweet and sticky restaurant-style orange chicken recipe, made simple for you!
Enjoy your tasty orange chicken with white rice and a glass of refreshing pineapple ginger juice.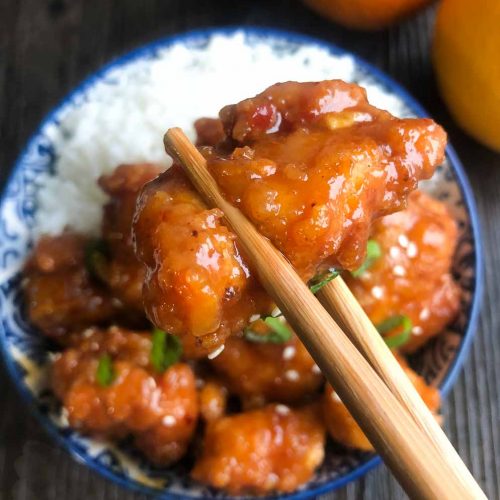 Delicious Orange Chicken Recipe
You'll be surprised at how easy and delicious this sweet and tangy orange chicken recipe is to make. Learn how to perfectly fry your chicken, or to make the healthier baked-version and also how to make orange sauce from scratch! Happy Cooking and enjoy it!!
Ingredients
2

lbs

chicken breast or chicken thigh

cut up into 2-inch chunks.

1

tsp

salt

1/2

tsp

white or black pepper

1/2

tsp

onion powder

1/2

tsp

garlic powder
Fried Chicken Option
1

egg

whisked

1 - 2

cups

cooking oil

for deep frying
Flour Coating for fried chicken
2

cups

flour

all-purpose

1

tbsp

baking powder

1/2

tsp

salt

1

tsp

onion powder

1/2

tsp

paprika

1/2

tsp

turmeric

1/2

tsp

powdered mixed spice

(optional)
Orange Chicken Sauce
1

tbsp

cooking oil

or sesame oil

1/4

small

onion

finely grated

1

clove

garlic

finely grated

1

1-inch piece

ginger root

finely grated

1

tsp

orange rind/zest

finely grated. **Use a grater to remove a thin layer of orange peel.

2

tsp

dried pepper flakes

or pizza flakes

1/2

tsp

turmeric

1/2

tsp

paprika

1

tbsp

honey OR 1 teaspoon brown sugar

1/2

tsp

cayenne powder

(optional)

3/4

cup

ketchup

1/4

cup

orange juice

3/4

cup

water

1

tbsp

soya sauce

1

tsp

vinegar

1

tsp

cornstarch

*if needed, for thickening gravy

2

tbsp

water

cool or room temperature, *to mix with cornstarch

1

tsp

sesame seeds

for garnish

1

tsp

green onion, cut into rounds

for garnish
Instructions
In a medium bowl, rinse the chicken twice in lime/lemon or vinegar water.

Remove skin and bones, if any, from the chicken.

Cut up the chicken and season with salt, pepper, onion powder and garlic powder.
Baked Chicken Method
Evenly place the chicken pieces on a greased, parchment-lined baking tray and bake at 375 deg. for 15 minutes or until chicken is completely cooked. Check the chicken for doneness by inserting a fork in the centre. The chicken is cooked when the juices run clear and the centre is white.

While the chicken bakes, prepare the orange sauce.
Fried Chicken Method
Add whisked egg to seasoned meat, then use a large fork, tongs or a wooden spoon to combine all ingredients and set aside.

Combine flour-coating ingredients in a large bowl or container with a cover.

Add the seasoned chicken to the flour mixture.

Cover the container and shake vigorously to completely coat the pieces of chicken with flour.

Heat oil in a large frying pan or wok.

When the oil is hot, use tongs to gently place the chicken, piece by piece in the oil.

Keep the heat on medium-high and adjust as necessary so the chicken does not burn.

Stir and turn the chicken constantly until it is golden brown all over (approx. 6-8 minutes).

Place the cooked chicken unto thick paper towel and set aside.
How to make the Orange Sauce
In a large saucepan, heat 1 ½ tablespoons cooking oil on low/medium flame.

Sauté paprika, turmeric, grated orange peel, pepper flakes, cayenne powder, grated onions, garlic and ginger in oil for 30 seconds, stirring constantly.

Add the honey, soya sauce, ketchup, ¾ cup water, orange juice and vinegar then stir for 2 minutes while on medium-high heat.

Stir and taste your sauce. You may add more honey, orange juice or water to taste.

Reduce flame to low and let the sauce simmer. The sauce should have a 'syrup-like' consistency.

If the sauce is too thin, mix 1-teaspoon cornstarch with 2 tablespoons cool water and add to the sauce.

Stir the sauce and allow it to simmer on low heat for 1 minute then turn off the flame.

Add the pieces of chicken to the pot and stir the chicken until it is fully coated with the sauce.

Serve your delicious orange chicken on a bed of fluffy white rice.

Sprinkle the sesame seeds over the chicken and garnish with green onions.
*Please note that this page may contain Amazon affiliate links (highlighted links to products on Amazon). I get a small commission each time you purchase through my Amazon links, at no extra cost to you. Thanks in advance for making all your Amazon purchases through my product links..
SUBSCRIBE & be the first to get delicious new recipes & exclusive offers!!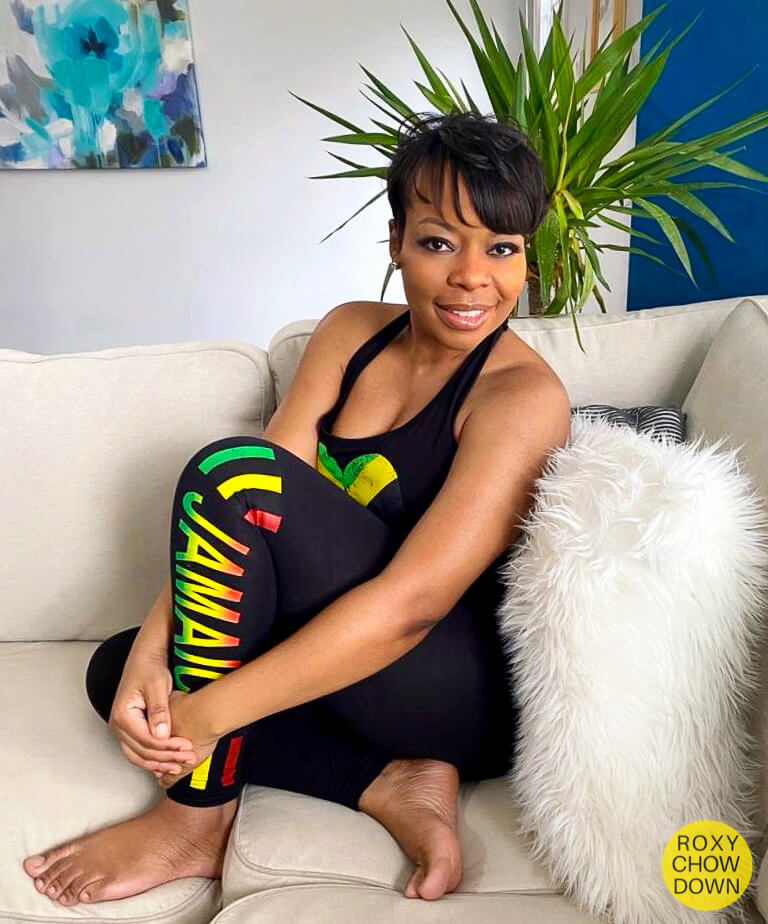 Check out these yummy recipes!