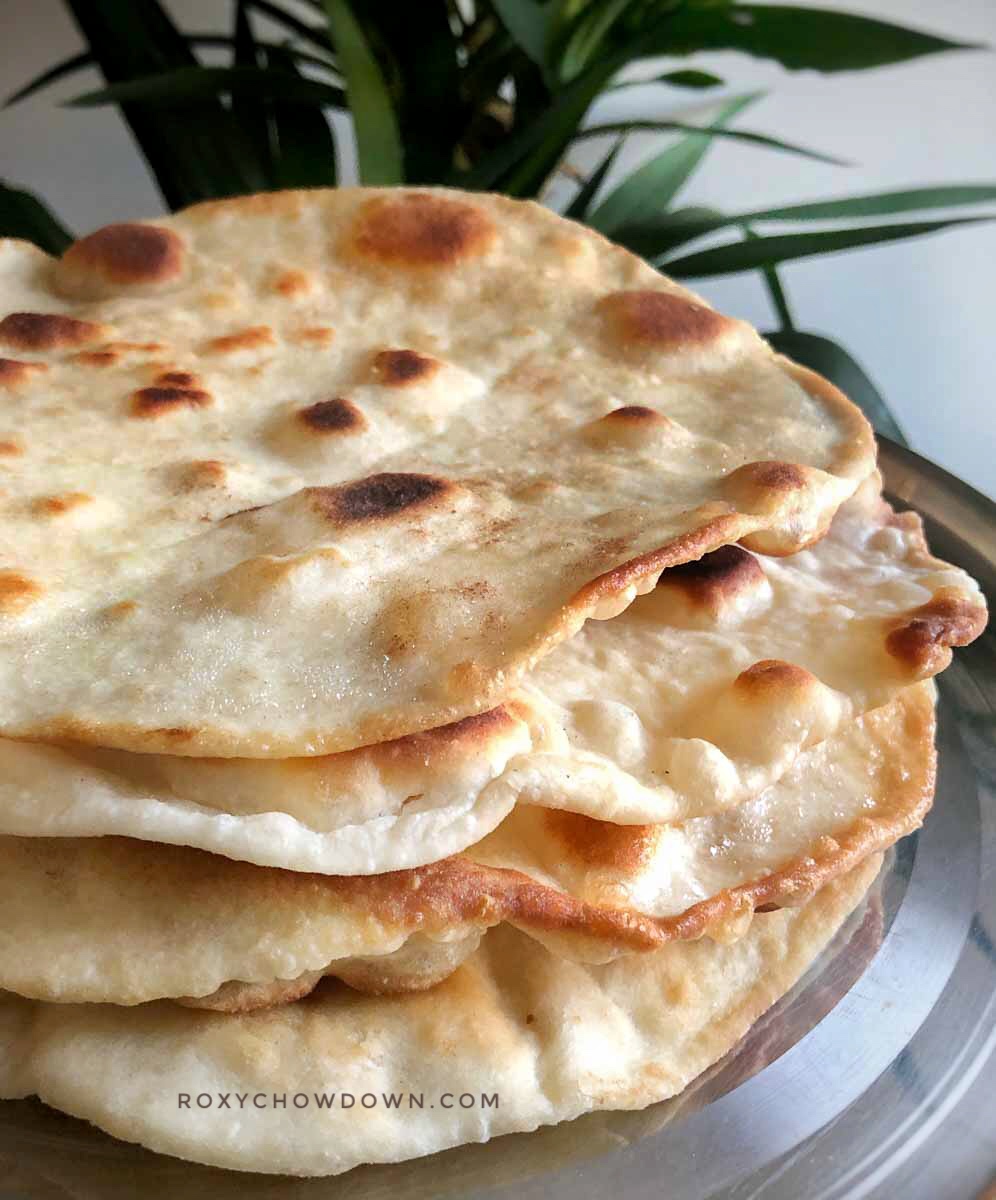 Jamaican Roti Recipe 
Say goodbye to bland store-bought roti, and hello to hot, fresh roti that you can easily make at home. This Jamaican Roti Recipe makes a fun and delicious side dish for all your favourite curry dishes. With roti on your plate, there's no need for utensils. It's the perfect spoon to scoop up all your juicy curry goodness. With roti, no meat, veggies, or gravy goes to waste! 
Although pre-packaged roti is available in stores, it's much better to 'go fresh' and save money by making your own. With my homemade Jamaican-Style roti recipe, you can make your next curry meal excitingly different. And guess what? I've put a flavourful twist on this recipe by adding coconut milk. Please try it and then come back to comment on how it worked for you.
Roti Craving
 Roti is a flatbread that's a popular side dish for curries in India and anywhere in the world that has a large Indian population.
With the increase in popularity of Indian cuisine worldwide, roti cravings are on the rise and with it, the demand for easy homemade roti recipes.
What is Jamaican Roti?
Jamaican Roti is a cross between roti and naan.
Roti is a soft, thin, flaky flatbread cooked on a flat cast-iron pot called a Tawa. The main ingredients are wholewheat flour, salt and butter with no leavening agent added. Naan, on the other hand, is a thick flatbread baked in a tandoor oven. The main ingredients when making naan are white flour, salt and a leavening agent.
The Jamaican roti recipe uses white flour instead of whole-wheat flour and uses baking powder as a leavening agent. It is then pan-fried. The end product is a firm flatbread that's more similar to naan than roti.
Even though roti varies across countries, they all use simple ingredients, cook quickly, and tastes amazing with curry dishes.
What goes best with Jamaican Roti?
Enjoy your homemade Jamaican roti with some spicy and nice curry chicken or curry goat. Then wash it all down with some refreshing Pineapple Ginger Juice!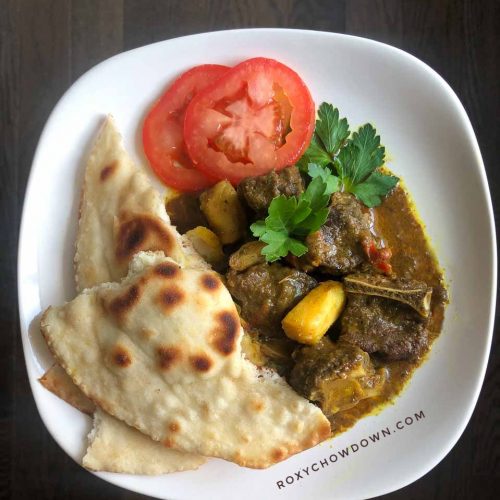 Jamaican-Style Roti Recipe
This delicious warm and flavourful homemade Jamaican-Style Roti recipe makes the perfect side dish for all your favourite curry dishes!
Ingredients
2

cup

all-purpose flour

1/2

cup

coconut milk

1/2

cup

water

1

tsp

baking powder

1

tbsp

butter

melted

1/2

tsp

salt
You will need:
1/4

cup

all-purpose flour

additional flour is needed to flour your surfaces and may be needed to smooth your dough

cooking oil

1 tsp per roti

cling wrap

large flat frying pan

rolling pin

large cutting board

or countertop

spatula

paper towel
Instructions
Combine water, coconut milk and butter in a microwave-safe container and heat for 35 seconds or until the butter melts, then set aside for 20 minutes to cool. The liquid must be slightly warm or room-temperature for this recipe.

In a large bowl, add flour, salt and baking powder, then use a large fork or whisk to thoroughly combine all ingredients.

Make a well in the center of the flour mixture and add half of the liquid. Use a large spoon to combine the wet and dry ingredients.

Add remaining liquid and use the spoon to fold in.

When the liquid has been absorbed, use your hands to knead the dough into a soft smooth ball. If the dough is too sticky, add a bit more flour and knead until smooth.

Cover the bowl of dough with a damp dish towel, or wrap the dough in cling wrap.

Let dough rest at room temperature for about 1 hour.

Lightly flour a large clean surface or a cutting board.

Divide the dough into six parts and roll each into a ball. Set them aside in one corner of the cutting board.

Take one ball of dough and lightly flour it, then place it in the middle of the floured cutting board.

Start to roll out the roti by placing the rolling pin in the center of the ball and pressing down. Then roll out the dough evenly towards the ends, turning your dough over each time it sticks until the dough is rolled flat and about ¼ inch thick.

Heat 1 tbsp cooking oil in a large wide frying pan and spread it evenly over the surface of the pan.

Place the rolled-out dough in the center of the pan when the oil is hot and reduce the heat to medium low.

Use a spatula to shift the dough around in the pot for 10 seconds.

Check that your roti isn't browning too quickly or that the pan isn't smoking. If the roti starts to brown immediately or the pan starts to smoke, reduce the heat.

After a minute, or when multiple bubbles form on the surface of the roti, flip it over and reduce to low heat.

Cook that side for about 2 minutes, pressing lightly on the roti with a spatula.

Flip the roti again and cook for approximately 2 minutes more.

Remove the roti from the pan and set aside onto a plate.

Add another tablespoon cooking oil to the pan, and let it heat for 30 seconds before adding another rolled out dough to the frying pan.

Repeat the process until all the rotis are cooked.

Serve hot with the curry of your choice, then bless up and enjoy it!

When you've tried my roti recipe, please remember to come back and post your review & rating so I know how it worked out for you!
Check out these yummy recipes!