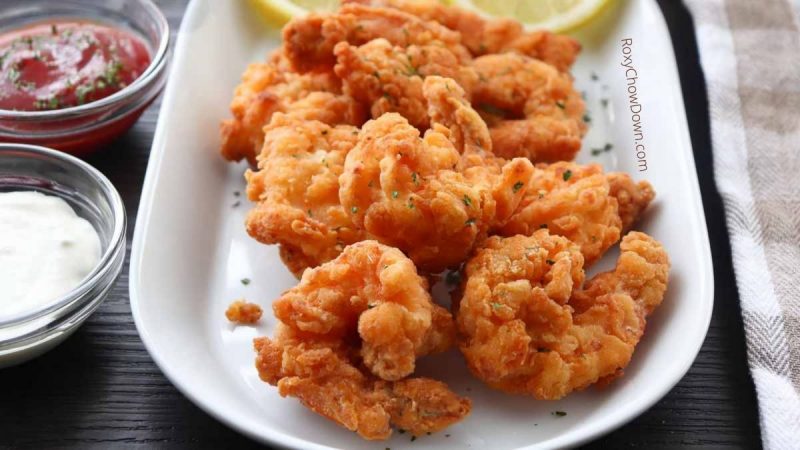 Easy Crispy Fried Shrimp
Ever since I created this crispy fried shrimp recipe, I've not gone back to take-out. Seriously. I've saved tons of money, impressed my family and enjoyed as many shrimp my money can buy.
This pan-fried shrimp recipe is so easy to make and deliciously flavourful that it has become my family's favourite seafood appetizer or dinner!
If you're a shrimp-lover, then this is the perfect shrimp recipe for you. You'll learn all my secrets to getting the best-tasting crispy fried shrimp at home.
Here you'll find – the best type of shrimp to use for this recipe, how to make the best crispy shrimp batter from scratch, and how to fry shrimp so that it's plump, juicy and perfectly cooked.
Cooked shrimp vs Raw shrimp – What type of shrimp is best for frying?
Both types of shrimp may be used for this recipe, but I prefer to use large or jumbo raw shrimp. I say – "The bigger the shrimp are the better." This is because I find larger shrimp to be juicier, more flavourful and have a nicer texture when fried. Also, when you use cooked shrimp instead of raw shrimp when frying, there is a greater chance of overcooking it.
How to make the best crispy shrimp batter from scratch
Making the best shrimp batter from scratch is quite easy! The great thing is all the steps are listed in the recipe below. Just remember these three steps when coating the shrimp in batter – Dry, Wet, Dry. First coat the shrimp in the dry mixture, then the wet mixture, then finally in the dry. Coating your shrimp this way is how you'll get perfectly crispy shrimp.
How long does it take to fry raw shrimp?
Raw shrimp takes about 4 – 6 minutes to fry. To ensure the shrimp is properly cooked, fry the shrimp on medium heat, turning it every 2 minutes. Remove the battered shrimp from the pan when the outside is golden brown and the inside is opaque.
What goes best with fried shrimp?
Most people believe fried shrimp goes best with potatoes. However, fried shrimp pairs nicely with a variety of side dishes. So enjoy your crispy fried shrimp with festivals, rice, in a sandwich, or with a salad! A refreshing beverage to try with my Crispy Fried Shrimp recipe is Pineapple Ginger Drink. Try them and come back to let me know what you think.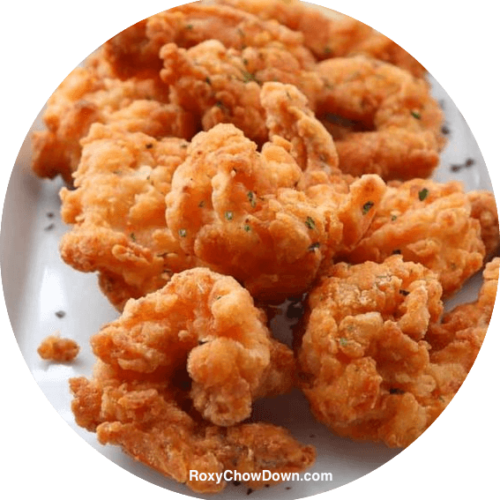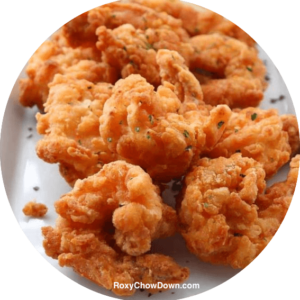 Easy Crispy Fried Shrimp Recipe
If you love Crispy Shrimp you're at the right place. Say goodbye to take out, and hello to your best homemade fried shrimp recipe ever! This fried shrimp recipe is perfectly crunchy, juicy, flavourful and so easy to make, you'll enjoy making it over and over again. This fun seafood dish is mouth-wateringly good and can be served as is or with your favourite seafood dips and sides. You'll keep coming back to this easy recipe because it leaves everyone screaming for more.
Ingredients
400

g

raw jumbo shrimp, deveined

(21-25 shrimp per lb)

1 - 2

cups

cooking oil

for deep frying
Shrimp Seasoning
1/2

tsp

salt

1/4

tsp

white pepper or black pepper

1/4

tsp

allspice powder

1/4

tsp

oregano, dried and finely crushed

optional

1/2

tsp

thyme leaves, dried

optional

1/2

tsp

onion powder

1

tsp

hot sauce

(optional) for spicy shrimp
Dry Mix
4 - 5

tbsp

flour

1/2

tsp

salt

1

tsp

baking powder

1/2

tsp

onion powder

1/2

tsp

garlic powder

1/2

tsp

paprika

1/4

tsp

cayenne pepper, powdered

(optional) for spicy shrimp
Wet Mix
1

large

egg

1

tbsp

milk

optional
Instructions
In a small bowl, rinse the shrimp and pat dry.

Season the shrimp with the shrimp seasoning.

In a small lidded container, prepare the dry mixture, cover and shake to combine.

Add the shrimp to the dry mixture, cover the container and shake to coat the shrimp.

In another small bowl, prepare the egg mixture and whisk together. If you choose to omit the milk, whisk the egg and set aside.

Add the shrimp to the wet (egg) mixture, then stir with a large fork until the shrimp is fully coated.

Return the shrimp to the dry mix container, cover and shake once more.

Heat the cooking oil in a large wide frying pan or wok. To know when the oil is ready, sprinkle a pinch of flour in the oil. When bubbles form around the flour, the oil is at the right temperature.

Add the shrimp to the oil one by one, lightly shaking off the excess flour before.

When you have added all the shrimp to the pot, reduce heat to medium.

Turn each shrimp every 2 minutes until cooked and golden brown all over.

Remove the cooked shrimp onto a plate, lined with a thick paper towel.

Let the shrimp cool for a few minutes, then bless up and enjoy it!

My Peeps, I'd love to get your feedback. As soon as you've tried my recipe, please come back and leave your review and rating. Thanks much!
*Please note that this page may contain Amazon affiliate links (highlighted links to products on Amazon). I get a small commission each time you purchase through my Amazon links, at no extra cost to you. Thanks in advance for making all your Amazon purchases through my product links..
SUBSCRIBE & be the first to get delicious new recipes & exclusive offers!!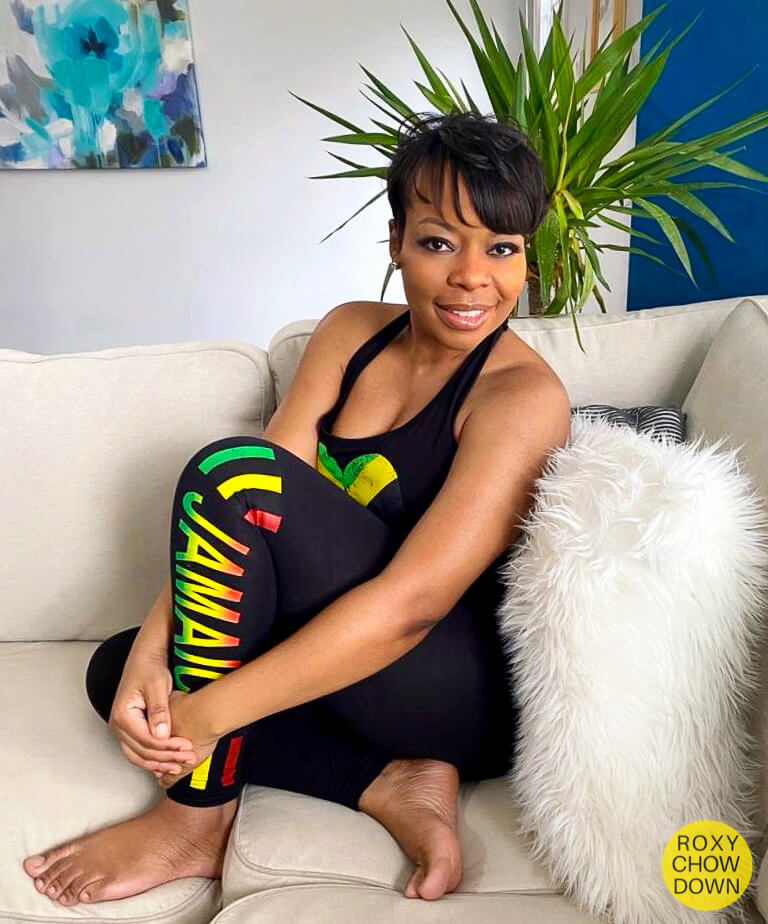 Check out these yummy recipes!