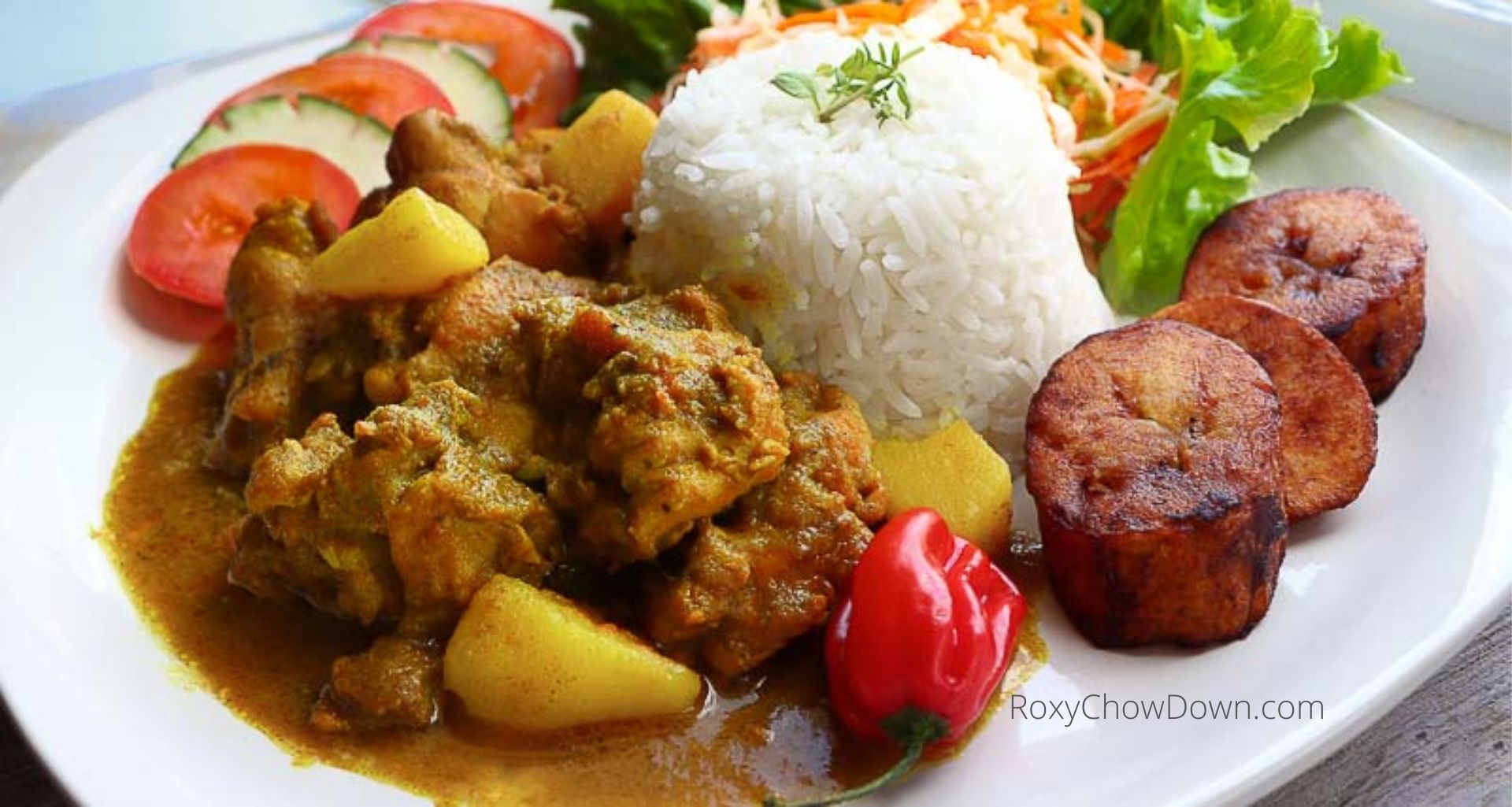 Jamaican Curry Chicken
Surprise yourself and impress family and friends with this easy-to-follow, delicious Jamaican Curry Chicken recipe. With this recipe, you'll learn how to cook Jamaican curry chicken that's soft and juicy with, a rich gravy and a tantalizing flavour. In the end, everyone will crown you the Curry King or Queen of the kitchen!
If I were asked to name one type of curry powder that I think is the best, I'd be very careful in answering. Here's why – because people are usually passionate about the curry powder they use and may get quite if your taste differs from theirs. Some persons swear by a particular brand of curry powder and would never cook their curry chicken without it. One reason may be that while growing up, they enjoyed a specific brand of curry powder and it reminds them of home.
For others, it is usually personal satisfaction that makes them prefer one type of curry powder over all others. I believe it's the curry powder that appeals to our senses that's often the clear winner – those that give a rich colour to our meat has a captivating smell, and also deliver deep flavour, is the one we stick with.
 But did you know that 'curry powder' isn't just one ingredient but a blend of spices? The common spices in curry powder are turmeric, cumin, coriander, fenugreek, and cardamom. If you're now wondering what differentiates the types of curry powders, I'll tell you. What distinguishes Indian, Trinidadian, Jamaican, and Guyanese curries are simply the unique spices that's added to these base ingredients to make it their 'own'. This is why there are many different, yet wonderfully tasty ways of making curry dishes.
So to give you my answer to which type of curry is the best, I'd say my best 'curry powder' is actually a mix of different blends and not just one type. I tend to mix Jamaican and Indian curry powder blends, then create an even more unique flavour by adding fennel seeds and more cumin.
Ultimately, we all have our preferences and love different types of curry powders for different reasons, and that's quite ok.
How to cook 'Spicy and Nice' Jamaican Curry Chicken
Great Jamaican Curry Chicken must be spicy and nice. There's no question about it! There are three things all curry chicken dishes must have – an appetizing exotic fragrance, a rich 'curry' colour and a spicy lasting flavour. Here are some tips on how to get your curry chicken to taste spicy and nice.
Don't forget to add these two 'spicy' ingredients – Scotch bonnet peppers and ginger.
Always use a combination of powdered and fresh seasoning.
If possible, allow your seasoned chicken to marinate for four to eight hours.
Always sauté about a tablespoon of curry powder before cooking your chicken. This process is called 'burning' the curry.
The cooking technique of 'burning' curry powder releases flavour and colour. Check out my Jamaican curry chicken recipe video below to see how I burn the curry powder to get my curry chicken to have a rich yellow curry colour and spicy curry flavour.  And guess what? You don't always have to season your curry chicken overnight to make it flavourful. In the video below you'll learn how to season and cook delicious curry chicken in under two hours.
Happy Cooking!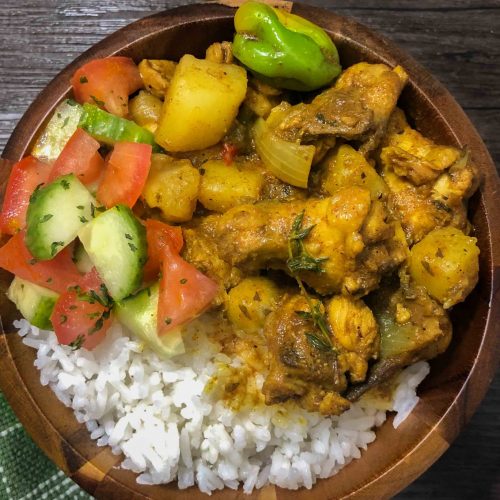 Jamaican Curry Chicken Recipe
You're sure to enjoy this flavourful Jamaican curry chicken recipe! This easy recipe teaches you step-by-step, how to burn curry the right way, then cook your curry chicken to perfection, with a rich, finger-licking curry gravy! In the end, everyone will crown you the Curry King or Queen of the kitchen!
Ingredients
1

whole

chicken

cut into small pieces

1

tbsp

salt

or to taste

1

tsp

black pepper

1

tsp

thyme leaves

dried

1

tsp

ground allspice

½

tbsp

onion powder

unsalted

½

tbsp

garlic powder

unsalted

½

tbsp

ginger powder

or small ginger root, crushed

½

tbsp

msg-free soya sauce

optional

2

sprigs

fresh thyme

2 - 3

stalks

scallion

¼ - ½

small

scotch bonnet pepper

de-seeded, to taste

1

inch thick

gingerroot

crushed

1

medium

onion

diced

6

seeds

pimento

4-6

cloves

garlic

chopped

¼

medium

green bell pepper

diced

½

small

tomato

diced

½

medium

irish potato

diced, (optional)

1 - 2

tbsp

vegetable oil

1

tbsp

butter

optional
Curry Powder Mix
3

tbsp

curry powder

½

tbsp

cumin powder

1

tsp

turmeric powder

optional
Instructions
Prep the chicken by cutting it up into small bite-sized pieces and washing it in vingar or lime water.

After draining the chicken, season it with salt, soya sauce, black pepper, allspice, thyme leaves, pimento seeds, onion powder, garlic powder and ginger powder.

Prep the fresh seasonings, add to a bowl and mix thoroughly.

Separate the chopped fresh seasoning in halves then and add a half portion to the chicken. Set aside the remaining half of the seasoning for making the gravy.

In a small bowl, mix the curry powder, turmeric and cumin powder.

Remove 1 tablespoon of the curry powder mixture and set aside for 'burning'.

Add the remaining curry powder mixture to the chicken.

Thoroughly rub all the seasoning into the chicken by hand or by using a large utensil.

Cover the bowl of seasoned chicken and let it marinate for 2 - 8 hours or move immediately to the next step.

Heat the cooking oil (and butter) on medium-low heat in a large skillet then add the 1 tablespoon of the curry powder mix that was set aside for 'burning'. Stir the mix quickly and thoroughly in the hot oil for approximately 15 seconds.

Add the seasoned chicken to the pot, stir it, then cover the pot and let cook on medium-high heat for 5 minutes.

After 5 minutes, add 1 cup water, stir it, then cover the pot and let it cook for 10 minutes.

After 10 minutes, stir the pot then add enough boiling water to cover the chicken. Stir the chicken once more.

Cover the pot and let the chicken cook on high-heat for 20 minutes. Remember to stir the pot every 10 minutes, and ensure the water doesn't dry out too much.

If the water dries out 1 - 2 cups of water.

After 20 minutes, add the potatoes, the second portion of chopped seasoning and 1 - 2 cups boiling water and stir. Cover the pot and cook for a further 8 -10 minutes.

Taste a small piece of the chicken to test if the curry chicken has the desired amount of salt. You may add a 1/4 of a chicken bouillon cube or 1/2 tsp salt if needed.

Reduce the heat to medium/medium-low, stir the pot, then partially uncover it to allow the gravy to thicken (approximately 5 minutes).
*Please note that this page may contain Amazon affiliate links (highlighted links to products on Amazon). I get a small commission each time you purchase through my Amazon links, at no extra cost to you. Thanks in advance for making all your Amazon purchases through my product links.
SUBSCRIBE & be the first to get delicious new recipes & exclusive offers!!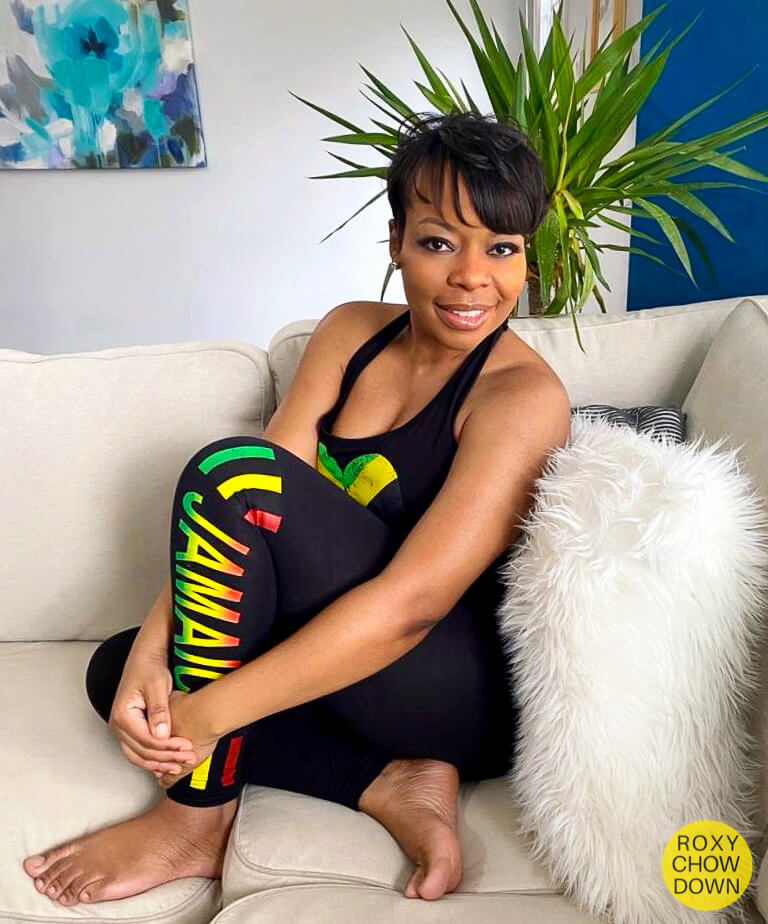 Check out these yummy recipes!