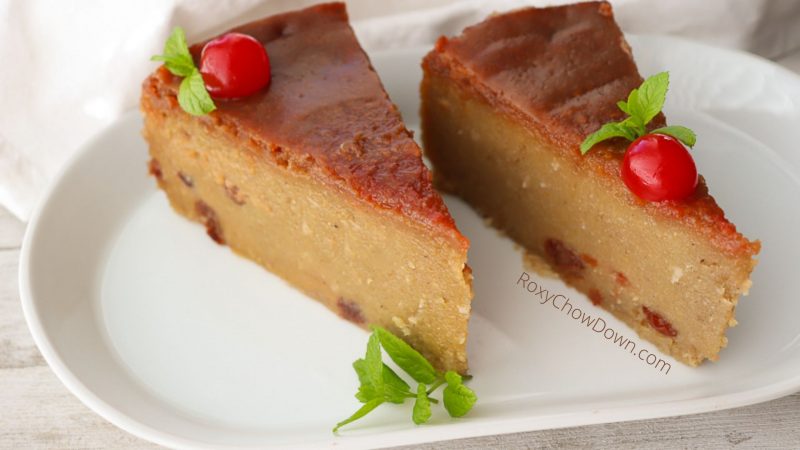 Grandma's Jamaican Sweet Potato Pudding
There is just something about Jamaican Sweet Potato Pudding that makes it simply irresistible! Because once you've tried it you just can't enough. For many Jamaicans, sweet potato pudding "ah di boss!" when compared to other puddings.
Jamaican sweet potato pudding or sweet potato 'pone' is a traditional dessert that uses simple ingredients but takes expertise to get an authentic homemade flavour and tantalizing texture. I've known many pudding-lovers who've travelled far and wide just to get their hands on a slice of this mouth-watering dessert. But, if you've ever faced that problem, search no more. Because today, you'll get to enjoy the whole 'pudding pan' by learning how to make sweet potato pudding yourself. My 'no-fuss' recipe, will teach you how to easily bake this appetizing Jamaican favourite, that's smooth in texture and rich in flavour!
The Sweetest Memories
One of my sweetest memories of growing up in Jamaica was family trips to my grandmother's house in August Town. For me, my Grandma's house is like 'foodie heaven', because everything she cooked tasted great. On weekend trips, we all looked forward to grandma's mouth-watering Saturday soup or Sunday dinner. I can vividly remember the feeling of joy every dinnertime at Grandma's. But when Grandma baked her famous sweet potato pudding, the feeling was even sweeter. Nothing could beat a nice warm slice of grandma's sweet potato pudding on a Saturday or Sunday evening. Her small kitchen would be full of pudding lovers, with their sheets of foil paper in hand. This was because we all had to get our extra share of pudding to take home and enjoy. For me, getting a slice of pudding from one of the corners of the pudding pan (where the edges were dark and crispy) was divine. Because everybody knows when it comes to puddings – ah di sweetest part dat! (That's the sweetest part!).
The Proof is in the Pudding!
Grandma Ma Pum's sweet potato pudding was the best. Her pudding was steamed on a wood-fire and filled with the most delicious flavours of sweet potatoes, coconut milk and spices. But that traditional way of baking sweet potato pudding was long and tedious. In order to make this recipe easier, I've developed one that eliminates the 'grating' step, which our Jamaican old-timers prefer. As a result, you can bake and enjoy your sweet potato pudding in a shorter time. My recipe also gives you the steps to make the soft topping or 'custard' for your sweet potato pudding, which most people enjoy. After many years of developing this recipe, I'm happy to finally share it with you. Let's get started on this easy and delicious Jamaican Sweet Potato Pudding recipe, lovingly inspired by my Grandma 'Ma Pum'.  Happy Baking!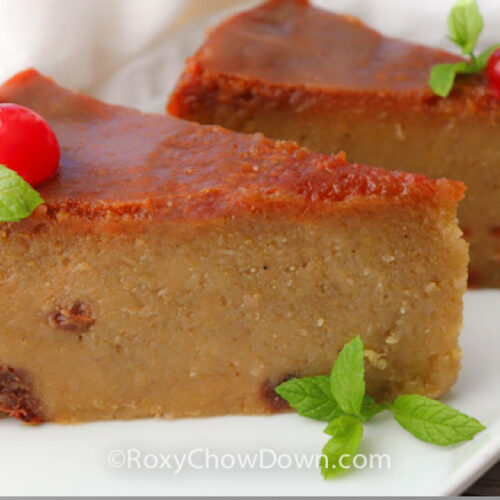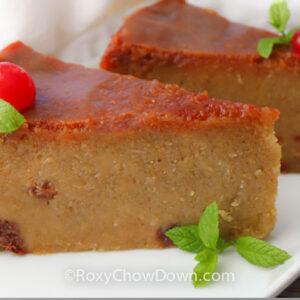 Grandma's Jamaican Sweet Potato Pudding Recipe
[AS SEEN IN BUZZFEED!] This is the Jamaican Sweet Potato Pudding you've been looking for! You will love how easy it is to bake this traditional 'Old-Time' Jamaican recipe that's rich in sweet potatoes, coconut milk and authentic Jamaican spices and flavour! Here's the best part - No risky grating necessary. Let the blender do the work so you can kick back, relax and enjoy your smooth and mouth-watering sweet potato pudding any time you crave it! Happy Baking!!
Ingredients
2 ½

lbs

Jamaican sweet potato (purple skin)

(gives you 8 - 10 cups chopped potatoes) Use the purple skin potatoes or purple skin yam that is 'white' when you cut into it. Do not use the orange flesh potatoes for this recipe.

2

cups

coconut milk

for blending

1¼

cup

brown sugar

3

tbsp

vanilla

1

tbsp

almond essence

1

tbsp

mixed spice

liquid

1

tbsp

rum

¼

cup

shredded coconut/coconut flakes

unsweetened, optional
Dry Ingredients (combine in a separate bowl)
2

cups

flour

all-purpose

1

tsp

baking powder

½

cup

cornmeal

finely ground

1

tbsp

corn starch

1

tsp

salt

to taste

1

tbsp

ginger powder

2

tsp

ground nutmeg

¼

cup

raisins

optional
For Custard
½

cup

thick coconut milk

2

tsp

brown sugar

¼

tsp

salt

¼

tsp

ginger powder

2

tsp

vanilla

1

tsp

mixed spice

½

tsp

cinnamon

½

tsp

melted butter
Instructions
Peel and wash the sweet potatoes.

Cut the sweet potatoes into small (1 inch) pieces and set aside.

Preheat the oven to 350˚ F.

Grease a 9-inch round baking tin and set aside.

Add 4 - 5 cups of the chopped potatoes to a blender with 1 cup of coconut milk.

Blend the sweet potatoes on high until smooth, then pour it into a large mixing bowl. Follow this technique to blend the chopped potatoes: Blend the mixture for 5 seconds, stop, then stir it completely before blending for another 5 seconds. Blend and stir a few times more until the mixture is smooth. (the blended potatoes should have a thick, lumpy consistency).

Blend the remaining chopped potatoes with 1 cup coconut milk then add it to the large mixing bowl.

Add the sugar, vanilla, almond essence, rum, and liquid mixed spice to the bowl of blended potatoes then combine well. If you have powdered mixed spice, add it to the flour mixture in the step below.

In a separate bowl, combine the flour and other dry ingredients then whisk together.

Use a large spoon to fold the dry ingredients into the blended sweet potatoes, then mix well until there is no trace of the flour.

Add the coconut flakes and mix well.

Toss the raisins in a small bowl of flour then sieve off the excess flour. Drop the raisins evenly into the batter then stir the batter lightly until there are no raisins visible.

Pour the mixture into the greased baking tin, place it on a rack in the center of the oven and bake for 2 hours 20 mins.

Prepare the custard mixture in a small bowl and set aside.

After 2 hours 20 minutes, remove the pudding from the oven and use a knife to test the center of the pudding for doneness. When the center of the pudding is relatively firm and the knife comes out mostly clean, the pudding is ready for the custard.

If the center of the pudding is still soft, allow the pudding to bake for another 20 - 30 minutes, then test it again.

When the pudding is firm in the center, pour the custard mix on top. Use the back of a spoon to evenly spread the custard over the entire surface of the pudding.

Return the pudding to the oven and bake for a further 10 minutes.

Remove the pudding from the oven and let it rest on the countertop uncovered for at least 4 hours to cool (you may cover the pudding with a dishcloth which allows the steam to escape). The pudding must cool completely so that it's firm enough to slice. If you can resist the delicious smell, let the pudding rest overnight in the refrigerator before slicing it. ***I find that sweet potato pudding has the best flavour and texture 1 - 2 days after baking. Please note: As soon as the sweet potato pudding cools, refrigerate it, and keep it refrigerated to enjoy your pudding for longer.

When the pudding cools, enjoy it on its own or with a scoop of your favourite ice cream.

Bless up, slice, serve and enjoy it!

Thanks for trying my recipe! Please remember to come back and leave me a 5-STAR rating & review to show your support and provide feedback 🙂 Nuff Love & Blessings!!
*Please note that this page may contain Amazon affiliate links (highlighted links to products on Amazon). I get a small commission each time you purchase through my Amazon links, at no extra cost to you. Thanks in advance for making all your Amazon purchases through my product links..
SUBSCRIBE & be the first to get delicious new recipes & exclusive offers!!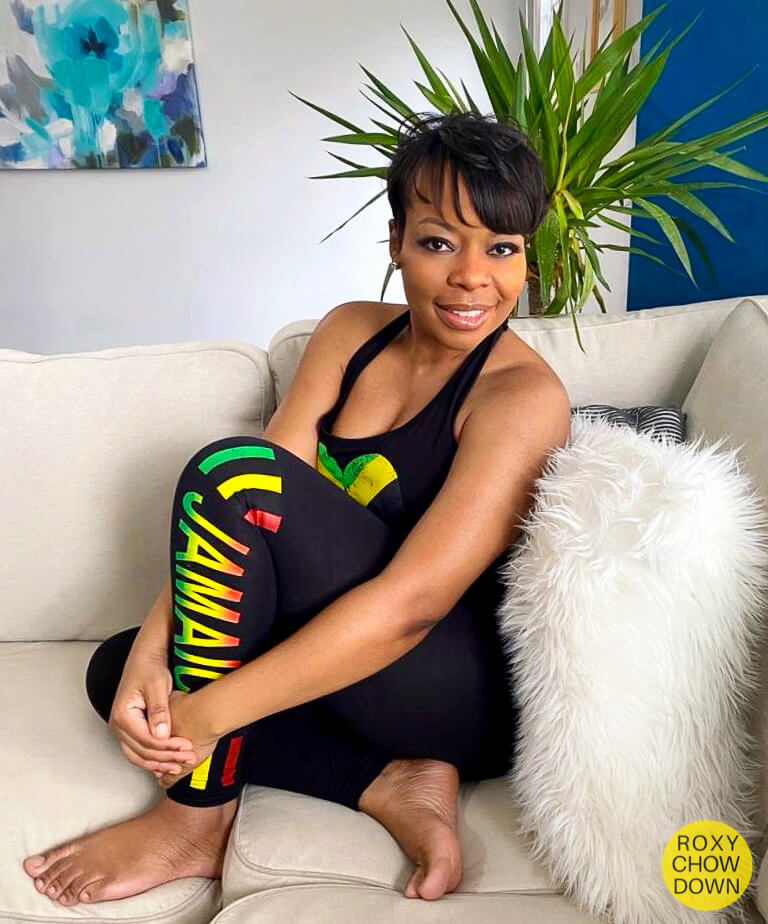 Check out these yummy recipes!