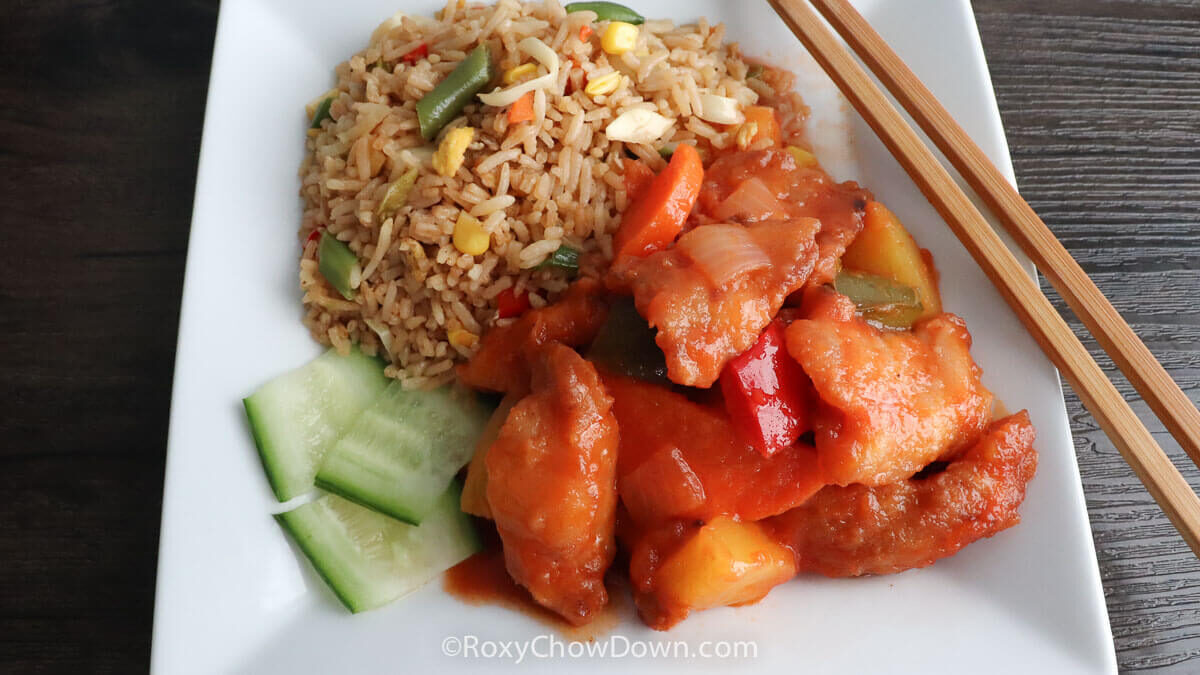 Sweet and Sour Fish
– This Sweet and Sour Fish recipe uses crispy fried fish fillets and a delicious homemade sauce to create a fun enjoyable dish everyone will love. Its simple step-by-step process is easy to follow and guarantees success. The fish is lightly coated then shallow-fried until crispy and then covered with a rich and flavourful sauce.
What fish fillet is best for frying?
I 
find that it's best to use
 snapper fish fillets for frying, 
which is easily found in many supermarkets. Its firm texture and sweet nutty flavour goes well with many dishes. Another great thing is that snapper fillets
 are easy to coat and don't fall apart easily when frying. 
Other popular fish fillet choices are fish fillet like pollock, cod fish, halibut, grouper, and haddock. I strongly recommend using  'firm' white fish fillets for this sweet and sour fish recipe and avoid fish fillets like Basa.
How to make crispy fried fish
Using potato starch and cornstarch as a coating is key to getting your fish light and crispy. I choose to use both potato starch and cornstarch to coat my fish, however, if you're unable to find potato starch, you may use cornstarch instead. 
Another important tip to get perfectly fried crispy fish pieces is managing the oil temperature. When the oil temperature is adequately hot, it prevents the fish from absorbing too much oil and becoming soggy. This recipe teaches you how to test the oil temperature to get delicious crispy fried fish.
How do you make sweet and sour sauce from scratch?
You'll love how easy it is to make sweet and sour sauce from scratch! This is because this recipe shows you, step-by-step, how to use easy-to-find and simple ingredients to create a no fuss yet tasty Chinese-style sauce.
The secret to getting this homemade sweet and sour sauce right is striking the balance of the flavours. You'll learn how to perfectly combine ketchup, water, vinegar, sugar, pineapple juice, ginger, onions and bell peppers to deliver a sweet, spicy, and tangy burst of flavour in every bite!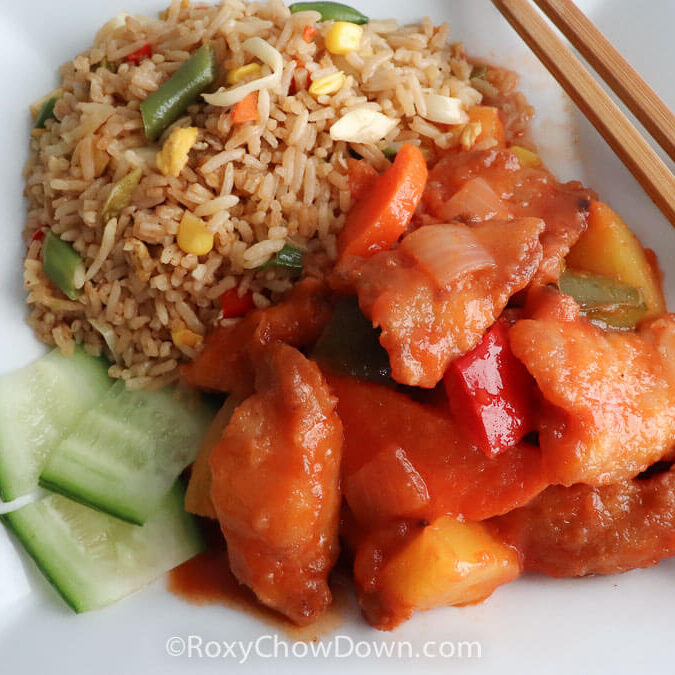 Delicious Chinese-Style Sweet and Sour Fish Recipe
This delicious Chinese-Style Sweet and Sour Fish recipe features perfectly crispy fish fillet, covered in a tantalizingly sweet and tangy sauce. You'll be glad you tried this classic Chinese take-out food favourite!
Ingredients
Fish coating
½

cup

all purpose flour

¼

cup

potato starch

1 ½

tsp

cornstarch

1 ½

tsp

baking powder

¼

tsp

salt

1

tsp

onion powder

1

tsp

garlic powder
Fish seasoning
1

lb

snapper, haddock or pollock fillet

(or other firm white fish fillet)

1

tsp

salt

1

tsp

white pepper

1

tsp

onion powder

½

tsp

garlic powder

½

tsp

ground ginger

½

tsp

paprika
For Frying Fish
1 - 1½

cup

vegetable oil

for frying
Sweet and Sour Sauce
1

cup

ketchup

1

cup

water

½

cup

pineapple juice

1½

tbsp

honey or brown sugar

1½

tbsp

white vinegar

½

tsp

ginger powder

1

tbsp

vegetable oil

½

small

carrot

chopped, optional

½

medium onion

chopped into 1-inch chunks

¼

medium red bell pepper

chopped into 1-inch chunks

¼

medium green bell pepper

chopped into 1-inch chunks

1

cup

pineapple chunks

1

inch thick

ginger root

crushed
Instructions
Making the Coating
Combine the flour, potato starch, cornstarch, baking powder, salt, onion powder and garlic powder in a large bowl then mix thoroughly.

Cover the dry mix and set it aside until the fish has been seasoned.
Frying the Fish
Rinse the fish fillet in lime, lemon or vinegar water then drain completely.

Use a sharp knife or kitchen shears to cut the fillets into bite-sized pieces.

Season the fish with the ingredients stated.

Toss the pieces of fish into the flour mixture until they are completely coated.

Add the oil to a large frying pan and set the burner to medium-high heat for 1 minute. (frying tip - sprinkle a little flour in the oil to test if the oil is adequately hot. If it bubbles, the oil is ready!)

Use tongs to add the coated fish to the hot oil, ensuring they are evenly spaced.

Flip the fish after 3 minutes starting with the first ones added to the pot.

Reduce the heat a notch to prevent the fish from burning.

Flip the fish after 3 minutes, then flip them again and fry for 2 minutes more or until crispy.

Remove the fish from the pot when they are golden-brown all over.

Remove any burnt coating or pieces of fish that may be left in the pot before adding any remaining pieces of uncooked fish.

Reduce the heat to low when pot is empty so the oil will not overheat.

Increase the heat after the remaining pieces of fish are added to the pot.

Fry the remaining fish using the method above until golden-brown and crispy all over.

Set the fried fish aside on a thick paper towel, then make the sweet and sour sauce.
Making the Sweet and Sour Sauce
Add the ketchup, water, vinegar, sugar (or honey), pineapple juice, and the ginger powder to a bowl and set aside.

Heat the oil in a medium sauce pan on medium high, for 1 minute.

When the oil is hot, add the chopped carrots and let it steam for 2 minutes.

Add the chopped onions, bell peppers, gingerroot, and pineapple chunks, and stir-fry on medium-high heat for 1 minute.

Add the ketchup sauce to the pot, stir then cover the sauce and let it cook on medium-low heat for 2 minutes.

Uncover the pot and let the sauce cool for 2 minutes before adding the pieces of fish.

Use a large wooden spoon to lightly stir the fish in the sauce.

Serve hot with white or fried rice.

Thank you for checking out my recipe. Please remember to come back and give it a 5-Star rating and review as soon as you've tried it!
SUBSCRIBE & be the first to get delicious new recipes & exclusive offers!!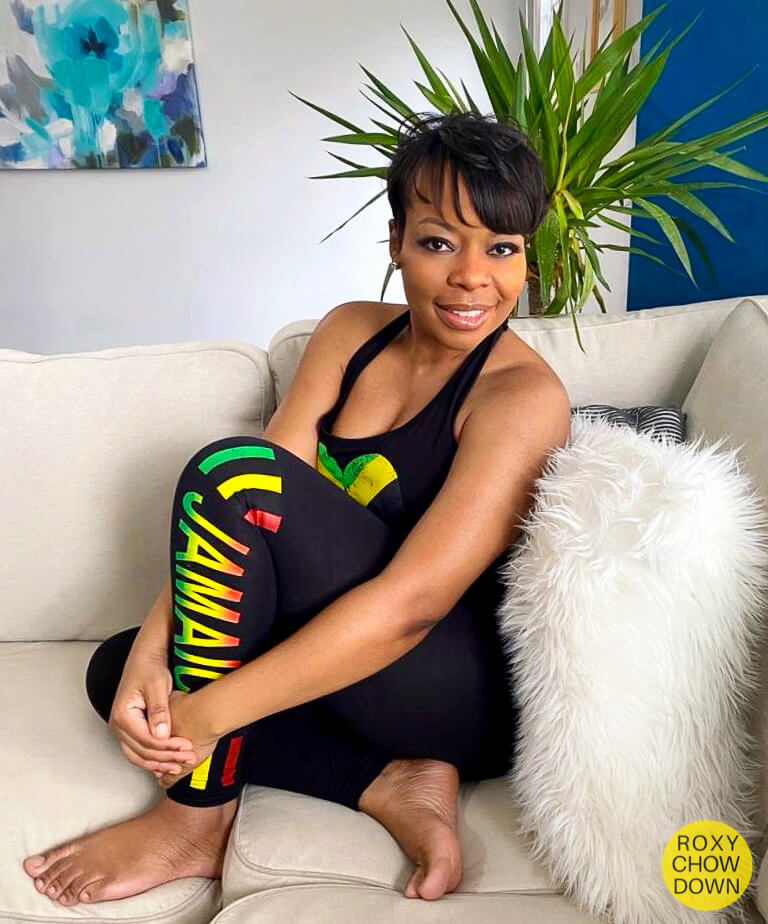 Check out these yummy recipes!