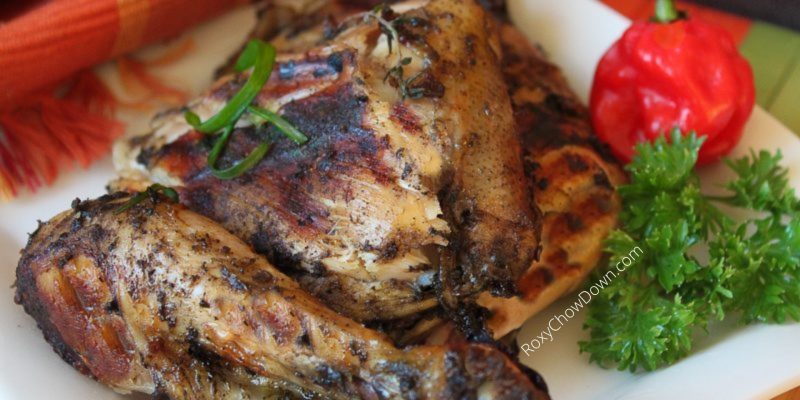 Juicy Jamaican Oven Jerk Chicken
Do you love the spicy flavours of Jamaican Jerk Chicken but don't know how to make it yourself? Well, my Oven Jerk Chicken Recipe will give you juicy, authentic Jamaican Jerk Chicken at home, when you crave it!
Jerk Chicken Craving
Before developing my own homemade Jerk Chicken recipe, I travelled to many of the popular Jerk spots across Jamaica. Travelling to different spots was my way to find Jerk Chicken that hit the right 'spot'. It's the same when I travel overseas. That craving for Jamaican cuisine travels with me. If you're like me, then I'm sure you've searched far and wide for good Jamaican Jerk Chicken! Once I see a Jamaican restaurant, I must try their food. But most of all I must try their Jerk Chicken. That's the true test of how good a Jamaican restaurant is, nuh true?
A 'Taste' of Jamaica
Jamaicans living overseas get excited when they find a Jamaican restaurant that offers 'real' Jamaican Jerk Chicken. There's nothing more delightful than consuming an authentic Jerk Chicken meal, flavoured with the 'right' spices. For most, real Jerk Chicken satisfies the craving for a 'likkle' (little) taste of Jamaica, especially when you haven't been home for a while.
Did you know that Jamaican Jerk Chicken has helped to put Jamaican cuisine on the world map? Despite the Island's wide range of 'must-try' cuisine, Jerk Chicken is among the top dishes. Many visitors to the Island who've tried Jerk Chicken can't help falling in love with this dish's captivating smell and flavour, and will tell you that the experience is out of this world. That's why all over, chefs and foodies alike try to replicate authentic Jerk Chicken to cater to the craving for this delectable dish.
Secrets of Jamaican Jerk
Jamaica is the home of Jerk Cuisine which applies not only to the dish but also the cooking technique. The cooking technique originated long ago by African slaves who used common spices to preserve their meat. The main spices were pimento or allspice, thyme and scotch bonnet peppers. When cooking Jerk Chicken, the process starts by preparing a jerk rub from spices. My jerk rub is made by blending together the spices to form a wet paste. This paste is then rubbed onto the chicken which is then set aside to marinate before cooking. Traditionally, jerk chicken is cooked or grilled on an outdoor fire using pimento wood. This 'smoking' technique makes Jerk Chicken stand out from other types of grilled food.
Best Homemade Jerk Recipe
So here's how I developed this recipe. I often wondered why despite being a popular dish, Jerk Chicken wasn't as popular as a homemade meal. Growing up in Jamaica, I've only had Jerk Chicken outside the home. My family would go out for Jerk Chicken at a restaurant, at a resort or from a local street-side vendor. When I moved to Trinidad and started my own family, my craving for authentic Jerk Chicken increased. That's when I found the solution which was to make my own Jerk Chicken at home. So I put on my 'big girl' apron, stepped into the kitchen, and created my own Jamaican Jerk Chicken recipe.
Why you'll love this Jerk Recipe
Finally, I got the recipe right and now I'll share it with you. Here's why you'll love my Oven Jerk Chicken recipe.
It's Flavourful – This recipe incorporates a spicy and delicious blend of the traditional Jamaican herbs and seasonings. And here's the biggest secret of all. Allowing your chicken to marinate is how you'll get that unique taste of real Jamaican Jerk.
It's Versatile – This easy to follow jerk recipe can be prepared on a grill or in an oven. Cook your jerk chicken completely in the oven, or partially in the oven, then finished up on a grill. You can modify this recipe to limit the amount of sodium or spice in the marinade to suit your taste. You won't get that using a pre-packaged jerk marinade.
It's Convenient – As an oven-based recipe, this recipe is a life-saver. This is especially when the weather doesn't permit grilling or when a grill isn't available. Use this recipe to enjoy Jerk Chicken when you want it, grill or no grill.
It's Juicy and Finger-Licking Good – Using an oven to cook your Jerk Chicken makes it moist and succulent. You will thoroughly enjoy the jerk flavours without using an open wood fire.
Make your own Jerk Marinade
Since my Jerk Chicken recipe includes 'how to make jerk marinade from scratch', you can get creative when cooking. You can use it to prepare a variety of jerk dishes. Enjoy dishes like jerk pork, jerk seafood, jerk turkey, jerk lamb or jerk vegetables with my jerk marinade recipe. Check out my recipe video below to learn how to make your own Jerk marinade at home.
Here are some suggestions for side dishes to pair with your Jerk Chicken. Enjoy Jerk Chicken with Jamaican Rice and Peas, Festivals, hard dough bread or even a salad.
Happy Cooking!
Jamaican Oven Jerk Chicken Recipe
Do you love the spicy flavours of Jamaican Jerk Chicken but don't know how to make it yourself? Well, my Oven Jerk Chicken Recipe will give you juicy, authentic Jamaican Jerk Chicken at home, when you crave it!
Ingredients
1

whole

chicken

cut into quarters
Jerk Marinade
4 - 6

large scotch bonnet peppers

chopped, (for mild Jerk Chicken, reduce the amount scotch bonnet peppers to two).

1

large

onion

chopped

6 - 8

stalks

green onions

(scallion)

8

cloves

garlic

chopped

1

bunch

fresh thyme

chopped

¼

cup

water

¼

cup

vegetable oil

1

tbsp

soya sauce

msg-free

1

tbsp

worcestershire sauce

optional

1

tbsp

salt

1

tsp

black pepper

1

tbsp

ground pimento (allspice)

or 1 dozen pimento seeds

1

tsp

paprika

1

tsp

brown sugar

1

tbsp

onion powder

unsalted

1

tbsp

garlic powder

unsalted

1

tbsp

ground ginger

1

tsp

ground cinnamon

1

tsp

ground nutmeg

½

tsp

ground cumin
Instructions
Make the jerk marinade by combining all seasoning in a food processor or blender and blend until smooth.

Place chicken quarters in a large bowl, then pour the jerk marinade unto the chicken pieces.

Using a large fork or gloved hands, thoroughly rub the jerk marinade over the chicken ensuring the seasoning gets under the chicken skin and coats each piece completely.

Cover the bowl of seasoned chicken and let marinate in the refrigerator for 2 to 24 hours.

Preheat oven to 350 degrees F (175 degrees C). Spray cooking spray unto a foil lined 9x13 inch baking dish.

Place the chicken pieces skin-side down and bake for 45 minutes before turning. Bake for a further 30 minutes then increase the temperature to 375 degrees. Bake at 375 degrees for 15 minutes more then remove from oven.

Chop the Jerk Chicken quarters into bite-sized pieces to serve.

Serve with crispy Jamaican fried festival, rice and peas or your favourite side dish.
*Please note that this page may contain Amazon affiliate links (highlighted links to products on Amazon). I get a small commission each time you purchase through my Amazon links, at no extra cost to you. Thanks in advance for making all your Amazon purchases through my product links.
SUBSCRIBE & be the first to get delicious new recipes & exclusive offers!!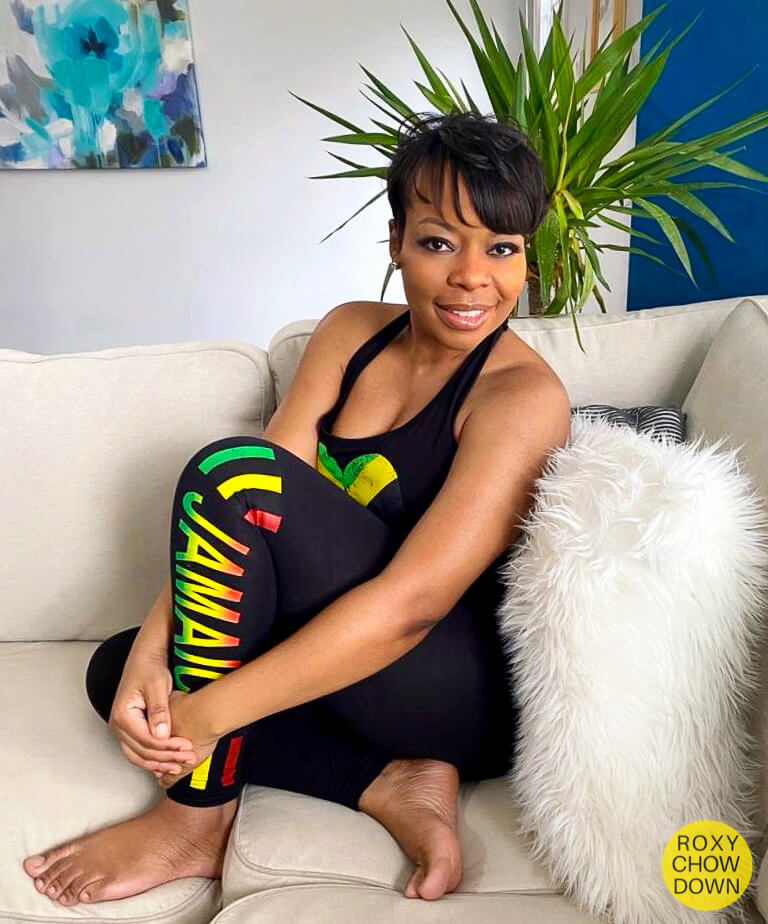 Check out these yummy recipes!